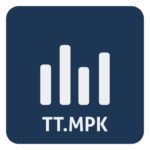 Market price curves: Hourly electricity and gas price curves
Keep an overview: with daily updated and intraday market price curves for electricity and gas directly in INIPRO.
The market price curves show the current market price situation in the form of an hourly price curve for electricity (HFC = Hourly Price Curve) and a daily price curve for gas (DFC = Daily Forward Curve). The gas price curve is shown for the market area THE. With suitable systems (INIPRO, BelVis or simply Excel), this can be used to determine prices for schedules.
The timpetools market price curves are produced and offered for the German energy market. They contain information for all front years available at the European Energy Exchange Leipzig (EEX). In electricity, the price time series is therefore usually prepared for six years, in gas for four years.
You can receive the market price curves in different formats and in different ways. Price curves in Excel or CSV format, which you receive daily by email, are common. However, any other formats are also possible, which you can retrieve from our FTP server in addition to delivery by email.
After a test phase of 14 days, you decide whether you want to subscribe to the price curves. You then have the choice of booking a monthly or an annual subscription. We will be happy to send you a corresponding order form on request.
Audited by the Hochschule Ruhr West
"The structural comparison between the HPFC and the realised spot prices shows a high correlation. The absolute deviation between HPFC and realised spot price or the comparison to the mean week also shows good results."

Prof. Dr. Michael Römmich
Department of Economics / Energy Economics
Would you like to receive more information about our products? Then send us your enquiry via the contact form. We will be happy to send you further information material or present our solutions at your premises.
These products might also interest you